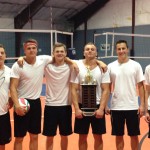 Last year the group of students from Cascade High School were caught flat footed in the championship game against a seasoned club team mostly from Graham-Kampowsin High School, this year they were not to be denied.  The foe in this years final was a group of students from Curtis High School, most on the South Sound  Volleyball club team.   As the afternoon wore on it was becoming apparent that this group comprised mostly of Jrs and Srs were not going home without hosting the trophy.  There commitment to volleyball was evident when after the tournament the group huddled together and talked about playing later that evening in Mill Creek, WA, close to the Cascade High School Campus.
The differences in style of play could not be any more apparent in the championship game. Â The team consisting of mostly students from Curtis High School ran a consistent 5-1 throughout the tournament. Â The Cascade students ran the setter out of the middle and rotated to the setter position. Â  As the commissioner put it, "It's not the style of play, but the perfection of the style of play that wins at this level of volleyball." Â  To get to the championship the students from Cascade played a host of students from Washington High School, the first ever member school. Â The play was great, and though the eventual champions won in two, Washington came within a few points to push the game to three. Â The more energized match, which may have been the students from Curtis's downfall was the O'dea students pushing the young team to three games and losing only by a score of 17-15 in the third game. Â  The Tournament Team will be announced tomorrow.
This years tournament featured only 4 teams, but the commissioner blamed it more on moving the date into June, than on lack of interest. Â "If we had kept the same weekend, we would have easily eclipsed 7 teams and really pushed to eight teams. " said Brian Boyer The commissioner of the WSHSBVA. "It's a great lesson to learn now, and next week we will have our dates for next year all finalized this time much earlier in the year." Â WSHSBVA also announced that they would be hosting a Boys Doubles Grass Tournament, next year. Â  Dates and locations have yet to be determined. Â Â Â The tournament was held at the Five12 courts in Puyallup, home to the Lake Tapps Volleyball Club.