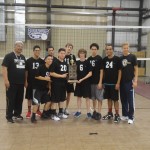 The first annual tournament was met with great praise and great play. It left the kids wanting more. Several student athletes asked if there was going to be more tournaments. The volleyball club Powersurge wound up the winners, comprised mostly of Graham-Kapowsin High School players, and a few from Washington, Curtis, Bethel, and Spanaway Lakes High School, won with a combination of power and fineness to win the Tournament. Led by there setter and tournament MVP LeShawn E. Kapenda Nathan Peredo from Washington High School, the team was the number 1 team in the tournament both in seed but especially on this day.
Marrysvile-Getchel came in second, though they did not make it to the championship round losing in the winners bracket to Cascade High School in the quarterfinal round, but eventually avenged the loss by defeating the powerful Cascade High School in the 2nd place game. The story of the Tournament was Odea High School, who in each defeat took the team GKHS, Cascade, and Marrysvile to either a third game (pool play) or extra points losing to Marrysvile 32-30 and therefore ending up in fourth place. Kelso High School and Bethel finished the tournament 5th and 6th respectfully.
The hitting was hard, the blocks were furious, and the kids had a great time. The commissioner when asked about next years event, he would only stipulate that it would not coincide with Mother's day, the CYO track championships, The Border Smackdown, the Regions Tournaments, or Memorial Day weekend but that it would be in either April or May, possibly early June. The date will be released in late July early August of this year.
Thanks to Puyallup Jrs Volleyball Club and the city of Puyallup for hosting the tournament.